Christina Klein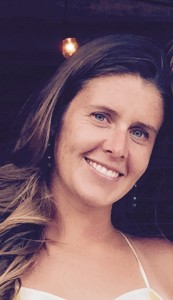 B.S. in Kinesiology- Westmont College 2009
Certified Massage Practitioner
As a Manual Movement Therapist, it is my goal to help you live your life to the fullest, and to perform your daily activities with strength and free from pain.
While growing up in Maui, I followed my mother's footsteps into massage therapy, learning how important massage therapy can be in treating and preventing injuries.
I began playing competitive tennis at the age of 9, and I was ultimately awarded a scholarship to play collegiate level tennis at Westmont College. During my first year of college, I experienced a low back injury that prevented me from playing at my optimum potential. At that time, I was told that I may have been suffering from a bulging disk, and that I needed an MRI to determine what further treatment I would need. I opted out of the MRI and while home for the Christmas holiday, I received two weeks of movement therapy which resulted in a dramatic increase in range of motion and decrease of pain. I was able to return to the tennis court in no time!
Although I battled lower back and repetitive-use shoulder injuries during my next three years as a college tennis player, I learned how much difference it makes to prepare one's body through training, and how manual movement therapy can dramatically increase one's range of motion and functionality.
I earned my Bachelors of Science degree in Kinesiology at Westmont College in 2009, and have since become a Certified Massage Practitioner and a Certified Personal Trainer. I believe that continuing education and improving oneself is the key to progressive growth and success.
Since my college days, I have learned how important it is to move better and move often. I primarily focus on helping people with chronic pain issues. I offer both private appointments and teach  movement workshops throughout the community of Santa Barbara.
The primary influence on my practice is Neurokinetic Therapy, Anatomy in Motion and Active Release Technique. With all three techniques I can address the neural dysfunction, muscular and fascial tension of people in chronic pain. Additional continuing education, has helped me understand just how complex the human body is and how far reaching dysfunction can affect the body's ability to move.
Overall using neuromuscular techniques, tissue manipulation, joint mobilization and encouraging the body to move freely, you will see and feel lasting results that improve everything you do in your day to day life.
---
 Education
---
"Develop a passion for learning, if you do, you will never cease to grow." – Anthony J. D'Angelo
2017:
Active Release Technique- Spine with P. Michael Leahy
Anatomy In Motion- Finding Centre with Gary Ward
Scolimethod-Scoliosis Integration Course with Jackie Wu
2016:
Integrated Cranial Level I – Opening Space with Jordan Shane Terry
Integrated Cranial Level II- Opening Space with Jordan Shane Terry
Fascial Taping- with Jackie Wu
Neurokinetic Therapy Level III- with David Weinstock
NKT Advanced Movement Re-patterning Course- with Jackie Wu and Celio Sylvia
Advanced Manual Muscle Testing and Palpation Course- with Thomas Wells
2015:
Neurokinetic Therapy Levels I and II- with David Weinstock
Muscle Testing and Meridians- with Jordan Shane Terry
Trigger Point Therapy- with Jordan Shane Terry
Intra Oral Cranial Course- with SBBTI
Sports Massage and Taping- with SBBTI
2014:
Orthopedic Massage Course- with SBBW